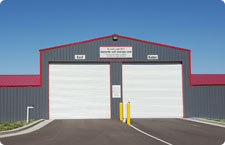 Business Hours:
Monday - Friday 8am - 5pm

Gate hours:
24 hours a day, 7 days a week
~ NOTICE ~
TERMINATION OF SELF STORAGE RENTAL AGREEMENT
We apologize for the inconvenience this may have caused, but due to the sale of the Menards Self Storage facility, this posting serves as notice that effective immediately the Self-Storage Rental Agreement – Sheboygan, for all units is terminated. Each tenant should have received a hard copy of a letter sent via first class mail and/or email. Please have your belongings removed from the facility on or before August 31, 2014, as per the rental agreement.
Please contact us if you have any questions.
Sincerely,
Menards Self Storage
715-876-2822
Welcome to

Located in Sheboygan, WI,

has a great selection of new storage units at low prices.
We have over 500 storage units on property that range in size from 9' x 10' to 20' x 40'. We have many different types of storage options available including indoor climate controlled units and individual warehouse units.
Our indoor units are all on the ground level and offer quick and easy access. Either drive up to access through the front door, or pull around to the rear of the building to unload. Loading docks are available for unloading large trucks or moving vans.
Our secure facility features 24 hours a day/7days a week access. Additional security features include a 10 foot tall security wall as well as video surveillance, security lighting and a manager on-site.

has the best prices around, starting at $40.00 a month. Paying your rent is also quick and convenient. Rent can be automatically charged to your credit card each month, you can pay in person, by mail, online or at the entrance keypads.
A great buy for homeowners, apartment, condo and mobile home residents, retailers, sales representatives and business professionals. Come see us today.