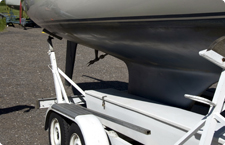 Business Hours:
Monday - Friday 8am - 5pm CST

Gate hours:
24 hours a day, 7 days a week
Welcome to Boat & RV Storage
Menards® Boat & RV Storage - Located at 2250 Lake Ave SE Largo, FL with close proximity to lakes, rivers, and stunning Gulf beaches; Menards® Boat & RV Storage is the ideal storage location for your boats, beach gear, jet skis, trailers, RVs and more.
Our parking spaces are 17 ft. wide and range 30 to 50 ft. long, that are perfect for all your boats, trailers, and RV needs!
Additionally, Menards® Boat & RV Storage offers 17 ft. x 31 ft. climate-controlled garage units with a 9 ft. wide X 7 ft. tall garage door, keyed entry door, bathroom, and electricity.
Menards® Boat & RV Storage has the best prices, starting at only $105 a month and a 24/7 access control gate. We offer quick and convenient payment options: automatically charged to your credit card, by mail, or online.
We have the perfect boat, trailer, and RV parking space to fit your needs. Rent one today!